How to Choose a High-Quality Microfiber Cloth
---
Not all microfiber cleaning cloths are created equal. Learn how to choose a great one!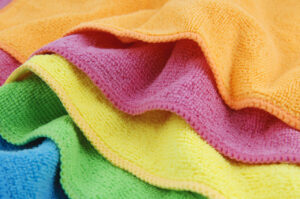 Not All Microfiber is Created Equal
Maybe you've tried microfiber before were not been impressed. Every time I hear a less-than-glowing review of microfiber, I think one of two things: 1. They were using cheap microfiber, 2. They were using microfiber that had not been cared for properly.
To really experience the cleaning magic that is microfiber, you have to buy a high-quality product and take good care of it.
In this post, I'll teach you how to pick a good quality microfiber cloth. Next time, we'll talk about taking care of your cloths.
Cloth Weight
In the context of microfiber cleaning cloths, "weight" refers to the density of the weave. Weight is measured in grams per square meter (GSM or gm/2). You don't have to know the exact specs to pick a good cloth, but for reference, 200-300 GSM is considered good for general cleaning. 600-700 GSM cloths are thicker, softer, and better for delicate surfaces. A high-quality automotive detailing cloth might be in the 600-700 GSM range.
Don't assume that more is always better. Sure, a microfiber cloth with a density of less than 200 GSM will be too thin to hold onto much liquid or debris, and will wear out quickly. On the other hand, using a 700 GSM cloth for general house cleaning won't work well either, as the think weave will get clogged up with debris and also leave behind more lint than you want.
For general, routine cleaning around your home, 200-300 GSM is perfect. It strikes a nice balance between too thin and too thick. It's soft and absorbent enough to be useful but not so thick that it gets clogged up and trails excessive lint.
How can I tell what the weight is?
To determine if a microfiber cloth is at least 200 GSM or so, use this trick: open the cloth up and grasp it at opposite ends, then hold it up about a foot from your face and look up at a light or window (into daylight of course). If you can see more than just the odd tiny pin hold of light coming through it, it's probably not worth buying.
It might be too thick for general household cleaning if it's soft and fluffy, like a thick cotton terry cloth. But usually, the problem with store-bought cloths is they are too cheap and thin.
In our third and final post in this Spring's Microfiber series, we'll learn how to properly care for your microfiber.
Until then,
-Joe W., Founder and CEO, Green Clean Maine
-Written by a human at Green Clean Maine in Portland, Maine, USA
---